The Bronze Age marks a time in ancient history when our civilization began developing advanced metalworking techniques for smelting copper and tin from naturally occurring outcroppings of ore, and then alloying those metals in order to cast bronze. The Bronze Age primarily took place between 3500 BC and 1200 BC, and is traditionally divided into the Early Bronze Age (c.3500-2000 BC), Middle Bronze Age (c.2000-1600 BC), and Late Bronze Age (c.1600-1200 BC). The primary significance of the Bronze Age was that it allowed us to create more durable products; bronze is harder than stone and far more durable. Today, solid forged bronze and bronze finishes are extremely popular when it comes to interior design elements for the home. Styleture is composed of numerous "bronze addicts" who keep a close eye on interesting designer pieces. The following are a few of our favorites:
Bronze Chalice by Stone Forest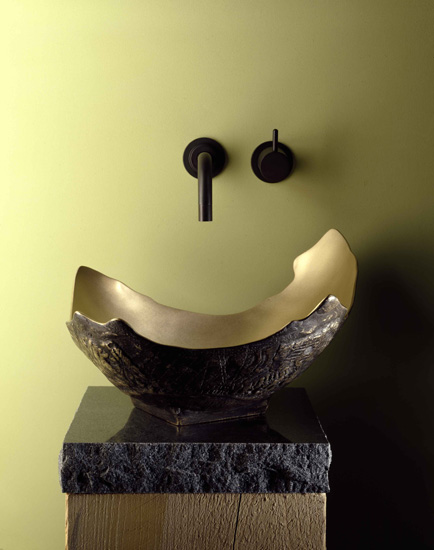 All it takes is one look at this sexy vessel and you can easily envision how it could breathe life into a bath environment. Designed in a living bronze finish, this unique piece is hand crafted using traditional sand casting methods. Some finishing marks, minor pitting, and small color anomalies are the distinguishing traits of Stone Forest's bronze sinks.
Forged Table IV by John Lyle Design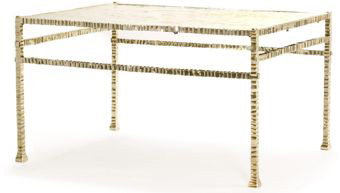 John Lyle Design is world renowned for their impeccable interior collections that exemplify fine detail and enduring quality. Their imaginative, sculptural designs and custom capabilities are one of the best-kept secrets in the industry. This table, designed in bronze with a hammered bronze top, exemplifies bronze furniture crafting at its finest.
Vertigo by Corbett Lighting
This beautiful pendant features bold, hand crafted iron bands, finished in bronze on the outside and gold leaf on the inside, which hypnotically wrap around a warm caramel ice diffuser. Four sixty watt incandescent bulbs reflect off the bronze, delightfully bringing the patina to life. Features a hang straight canopy.
Bronco Buster by Frederic Remington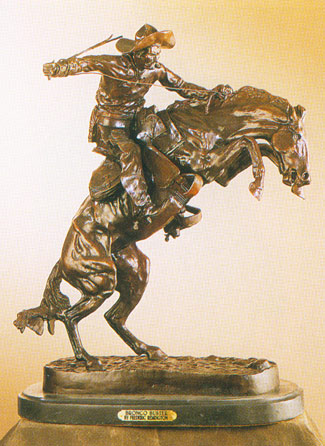 Nothing says elegance like a bronze sculpture displayed in the living quarters. Add a little fun to the elegance with the bronze Bronco Buster, handmade in the U.S. and featuring a beautiful marble base. Remington used a lost wax method to cast this piece; a method that dates back to early Roman times.
From a historic perspective, the Bronze Age may have occurred a few thousand years ago. From an interior design perspective, the Bronze Age is now. Utilize any of the pieces above to bring a little bronze into your life and enhance your interior's style.