Infamous Hollywood actor Val Kilmer, star of such hits as "The Doors", "Tombstone", "Batman" and "MacGruber", has finally contracted to sell his 6,000-acre New Mexico ranch for an undisclosed price to an anonymous buyer. The news comes after several price cuts on the ranch, starting from a high of $33 million in 2009; the stunning property was most recently listed at $18.5 million.
Kilmer's rustic ranch is situated about 30 miles east of Santa Fe along the scenic Pecos River, which is popular for trout fishing. It was once owned by the actress Greer Garson and her husband, Buddy Fogelson. The Santa Fe Trail runs directly through it and many who have come upon it have commented on how it looks as if it is straight out of the Old West. Nearby, there are fields of wildflowers and ponderosa-lined limestone cliffs. The area is a refuge to wildlife like mountain lion, elk, turkey, cougar, beaver and deer. The property includes a 5,500-square-foot four-bedroom, four-bath log and stucco house as well as several guest and staff houses. There's also an equestrian complex with heated stables, foaling barns and corrals. In recent years, Kilmer had the ranch converted into a bed and breakfast, but not without a fight from the neighbors who disapproved. Perhaps Kilmer's description in Rolling Stone, describing the region as "the homicide capital of the Southwest" and saying how "80 percent of the people in my county are drunk" didn't help his case. The entire fiasco was played out in the national media and didn't end until Kilmer apologized (sort of). The actor also has had numerous issues with the IRS for back taxes including one debt of $538,858. Nonetheless, at one point in 2009, he toyed with the idea of running for governor of New Mexico. With the pending sale of his ranch, many are hoping that he'll high tail it out of New Mexico permanently.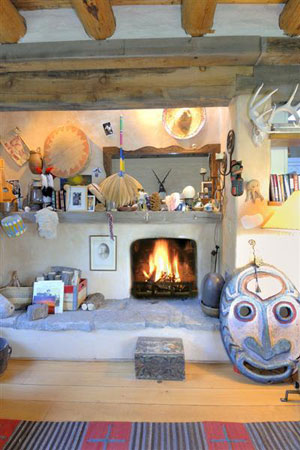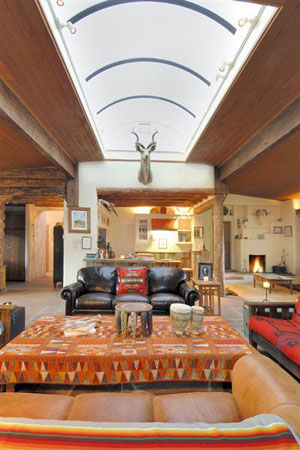 Kilmer's publicist has stated the reason he is selling his ranch is because of upcoming work commitments that will keep him from visiting as often as he'd like. Kilmer himself has said he wants the ranch to have an owner who has the time and finances to maintain it. Currently, the actor is filming "The First Ride of Wyatt Earp", due in theaters in 2012. Say what you will about Kilmer, but the ranch is an undeniable stunner.