The essence of the ancient Sumerian proverb, translated as "Doors are the windows to the soul," is all but lost on most modern homeowners. Sure they love fussing over obvious interior design aspects of their house – cooking ranges, bathtubs, furniture and flooring – but what about interior doors? Do people love those often overlooked and constantly abused workhorses that provide a range of functions including regulating sound and temperature, providing privacy and security, not to mention a pleasing aesthetic (when chosen carefully)? More often than not, the answer is no.
The fact is, decorative doors can have an incredible effect on a home's interior. The right door can complement existing interior features, stand alone as an embellishment of beauty and grandeur, or even serve as the sole design highlight of a room. Have you looked at some of the incredible doors on the market these days? French doors that come in glass and a multitude of wood species are a classic choice that always look elegant. Tall doors make a bold statement and work great in almost any room, but especially one with extremely high ceilings. When positioned near a decorative hanging element, such as a fan or hanging light fixture, their dramatic effect is enhanced even further.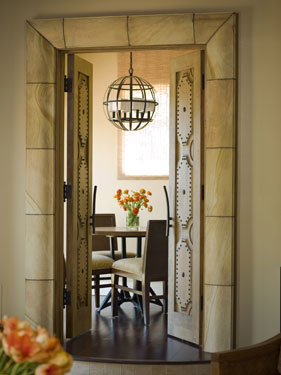 Honestly, if you love your home as much as you say you do, and you've been neglecting to bring your doors up to speed with the rest of its interior, there's no better time than the present to upgrade. And as long as we're being honest, there's no Sumerian proverb about doors. We just made it up and thought it sounded pretentiously cool.